Discussion Starter
·
#1
·
This is a video of one of my Malinois puppies searching for her toy in our basement. We've had to spend most of our training time inside recently since we had some very icy conditions outside. Its pretty elementary stuff, but that's about all we can do given the weather here lately. Trixie was 4 months old in this video. I put the music on for a noise distraction, and because I like the blues 8) .
Trixie's purpose in life is to be sold as a green detection dog prospect (narc, bomb or SAR) when she's a little older. So far, she's showing a lot of promise!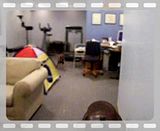 And, not to be out-done by his sister, here is her littermate - Crash. I plan on keeping him to train as a USAR dog if he continues to show promise for the work. I missed the first part of his "search" with the camera (its tough to take video and handle a puppy!), so you really only seem him here after he was already in scent and really concentrating. I kicked the plastic bucket around as a noise distraction. Didn't seem to distract him!