Discussion Starter
·
#1
·
Pete is my, now, 10yr old JRT.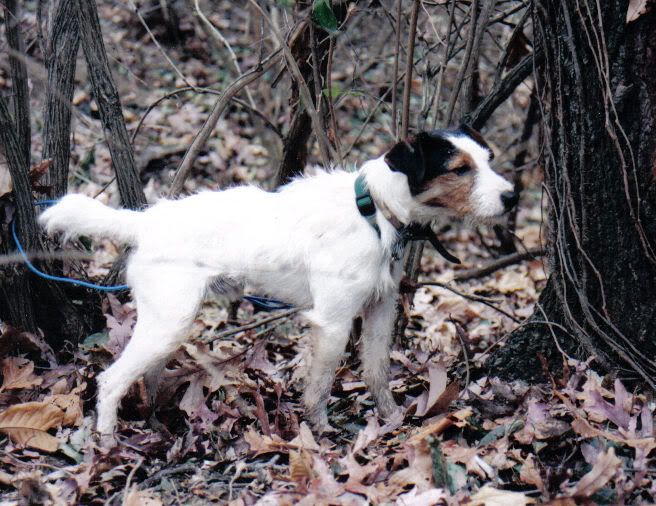 You may have noticed two collars The blue one is his tie out. They are ALWAYS tied out with a plastic coated steel cable. I have yet to see any dog that didn't try and chew through a tieout in order to get in on the action.
The second collar is a locator collar. The dog wears it when he enters the earth. Once he's settled down and baying, we have a reciever that will locate the dog within inches. It is good to 15ft. Then the digging starts. The average depth is 2-4ft but I've dug out dogs as deep as 7ft. I retired from earthwork about a year ago. At 60yrs old, it was either going to keep me in shape, or kill me
. I chose not to find out which one of the two. :lol: :lol:
When one dog goes to ground, all the rest MUST be tied out. If a second dog goes in, even good buddies can get into it underground. At best, the second dog will push the first into the quarry. Both are bad situations.
A CORRECT JRT is a baying dog. In otherwords, he stays back just a bit and raises he(( with the quarry till we dig to him, or he bolts the quarry.
I went with this breed after hunting with Border Terriers. The Borders are the most people soft, dog friendly terriers on the planet, but their willingness to engage the quarry with no concern about themselves, made me retire my two borders. It's a sport for me, and seeing a dog willing to get trashed and never back up, is no hunting sport IMO.
Pete hunted or 5-6yts and never took a bad bite.
MOST of the time, we let the quarry escape or we snare it for relocation. Only when they are a hinderance to farmers do we \"eliminate\" them. As I add pics of my terriers I will try and answer any questions about this very traditional form of hunting.