Discussion Starter
·
#1
·
I've posted previously about my GSD MoJo and his kidney disease. Sadly, I share with you, he passed on Thursday at 12:22 pm, here at my home on his bed.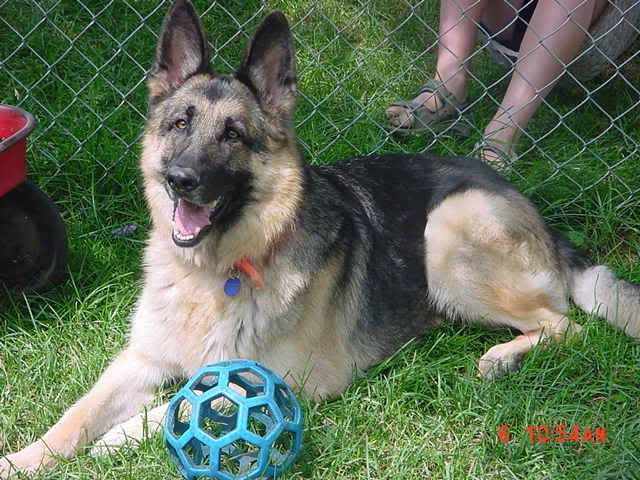 Unfortunately, I was not here for him, but thankfully my mom, (the next best thing) was...I had left on a vacation to Padre Island and to Arizona...10 day trip last Friday. I arranged for my friend and her kids to stay the first 2 nights and then for my mom to stay the next 7 days, attending to the dog, house, etc.
I really did not feel comfortable leaving on the (airplane) trip, but we do what we do, right? All my trips in previous years have included the big dogs, the jeep and a journey through to Seattle, camping along the way. Those days seem to be on hold until human child is what, 8 or so?
The first few days, MoJo did fine, eating, playing, having a blast (as my friend's kid even let MoJo up on the BEDS!!!! and they also played soccer...I was thrilled to hear MoJo was doing so well, and of course I, in turn, could enjoy myself--surfing in the Gulf!
However, Monday, MoJo got sick, vomiting. He was still eating and drinking that morning, but stopped that night. All day and night Tuesday he did not eat or drink anything.
Wednesday morning, I, in AZ (very uncomfortable at this point, and trying to arrange an early flight back) made a vet appointment. Mom took the MoJo in--he did walk in on his own, though weak. Vet drew blood, pumped sub cutaneous fluids, vitamins, a mega antibiotic and sent him home with mom and a prayer.
Thursday morning, I called mom around 6:30 am. She said "He's not doing good" and I knew. I said, "I'll call the vet and we'll put him down today. Tell MoJo if he can go on his own, to go ahead and go, that I said it's ok...if he can't get there, we'll help him".
Mom went to work, I scheduled an appointment for him to go in at 3:30. Mom came here to the house around 12:00 pm. MoJo was on his bed, breathing very steady, heartbeat strong and steady. Then it changed to a deep breath followed by 2 short breaths and his heartbeat was faint. She knew it death was imminent, but would wait to call me for a bit. I called at 12:20. Mom didn't want to answer, but did. She said "he's dying now." I told her to cup his face in her hands, rub his eyes with her thumbs and smell deep the top of his head and kiss him for me. I always did that to him--he loved to have his eyes rubbed. He then passed. She said he kind of stretched his back a bit, like taking a last deep breath, but it just wasn't there. He died, right there. I was on the phone from AZ. I didn't like that moment, not one single bit, but it was all I could do, just sit there...knowing, I'd never see my big doofy dog again.
That trip was gruling. I was prepared as prepared could be mentally though, the vet nailed it back in July. "The dog will quit eating and drinking" Born with bad kidneys.
I have some blogs about the MoJo on
http://www.myspace.com/missmahs
if anyone cares to read them. He sure was a good one and his presence is greatly missed. The cat I have, meandering around, silent, just doesn't cut it for me. She's been through 2 of my dogs now. The quiet is too much. I have been planning on getting a pup, but decided to honor MoJO's life first, him as top dog. Am now considering fostering a GSD--must be good with kids and cats--until I decide on the right pup. If anyone has any ideas, let me know. Thanks for reading, "listening", letting me share.