Discussion Starter
·
#1
·
Ok, so we all know them and love them. Here's Carbon's growly-noise/bark for when he wants something NOW. "Ask for it" is something new I taught him to do (just for kicks) earlier today.
(BTW, I filmed this in my son's room, so that's baby clothes you see on the floor. My son loves to open the drawers of his dresser and throw things out. And you can hear him in the background screaming for his "dada" when he walked in from work)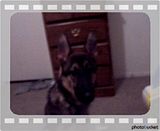 I was holding up "chicken chips" - my little treat I make at home.