Discussion Starter
·
#1
·
I thought of starting this subject, regarding confidence in working dogs, after a post I put on the bite work forum. In regard to a full mouth bite, Andes said, and several others subsequently agreed, that a full mouth bite was genetic from his observation. I will approach this from a breeding and hunting standpoint and the majority will be looking at it from a training and, hands on, protection dog stand point. Dogs are dogs and I think, outside of the classes of dogs differing(guardian dog as opposed to big game dogs), there are many similarities. I have purposely excluded bird dogs and varmint dogs because we are dealing with dogs willing to stand their ground facing far superior odds much bigger than themselves.
Andres used and example of breeding two dogs with full mouth bites together, resulting in pups with full mouth bites. This would be in opposition to two front bite dogs being bred resulting in front bite pups. If it is based on the assumption that it is genetic, the first pair would almost have to be homozygous to produce a whole litter with a full mouth bite. That would tell me it may indeed be a genetically controlled trait. A heterozygous pair would prove nothing even if they both had a FMB. These are just my thoughts on it as a breeder. I put a lot of weight on the individual dogs confidence. As a matter of fact, I put everything on it with my own dogs. My dogs are bred extremely tight and are all related in multiple ways. I don't even give a thought to, "will this dog hunt". I leave them alone till they are walking and "everything" is based on individual confidence. That is the one thing I have never been able to control, and short of cloning, I don't think it can be done. While a whole litter may be pretty confident, there will still be those more so than the others. The dogs in my yard, I can't tell 95% of them apart unless they are standing right in front of me together so I can look and see if the head on one is wider than the other and other very minor details. I think that may be why they have different colored collars. Dogs from one litter have blue, dogs from another have orange. Here is a picture of a male and female loping together, totally different crosses, and I can't tell which is which myself. Body style is the same, leg movement is almost identical. I could almost superimpose the pictures on top of each other to look like one dog.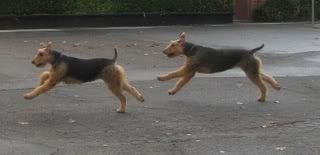 The one thing I can do is get the same confidence level across the board. A dog with great confidence, from a hunting standpoint can whip the world. I think a solid confident dog can walk into a field trial with 500 people milling around and 200 dogs barking and walk the walk anywhere. I see this as being very similar to a spot dog event or even police work. Many dogs have to be tested on their home field or with a known decoy to look good. How much of this is innate confidence? In hunting situations, when the confident dogs move around for the timing, but when they make their move, they aren't coming out till the fat lady sings... or until they are badly hurt. In hunting, just as sport work, their are dogs that are just to hard. They won't ever back up and they usually don't live long unless they are darn lucky. There are a lot of similarities that I can see. The super hard dogs are too hard for dangerous game unless it is tree game and little contact is made....but they are not the best hog dogs unless you don't mind losing them....but I do. Personal protection dogs are like that. It isn't a game. They are there to win regardless of the cost to them. The difference being, they may be saving a life so they are more expendable.
Is the type of bite do to more or less confidence. I am not talking about fearful dogs at all. Out in the open, those dogs won't ever get close enough to get hurt whether it is people or hogs. Maybe it isn't confidence at all but smarts.