Discussion Starter
·
#1
·
Hi! I'm Stacia, mom to 12 month old GSD Harras Hohe Wart, call name Achilles. He was purchased in Reichenberg, Germany, while DH (active duty army) and I were stationed there (well, honestly we are both army brats and have spent more than half of our lives in Germany). We've just recently made a move to Hickory, NC...hubby's gone recruiting. I also have an 8 year old beagle/basset/chow mix named Abbie, a kitty, and 3 human kids age 8, 5, and 2. I have a degree in English education that I've never used (yes, my parents remind me daily how much that cost them); I work as a labor doula instead (professional birthing educator and assistant).
Achilles has been worked in SchH since he was 10 weeks old (in Germany they have PUPPY classes -- how cool is that? -- tons of imrinting, drive work, socialization, and advice). He was started in OB at 4 1/2 months old and was on the sleeve by 7 months. We were told time and time again that he's a \"show\" dog and would never show real aptitude in sport, but he's proving everyone wrong! Besides that his sire is a pretty scary dude...he competes in Italian ring sport. I steered clear anyway...
We haven't done any work with poor Achilles in months thanks to our big move. He looks pretty pathetic lately, and this morning he started chewing on my arm. I felt kinda sorry for him. We have a SchH club 10 minutes away and we'll try to start going once hubby gets some time. Right now I have zippo childcare and I've never handled the dog in sport, so it would be better if hubby did it at least the first few times. That and there's no getting a 2 year old to sit quietly on the bench while you work the dog LOLOL!
I'm really happy to have found this group and hope you all dont' mind my incessent questiosn too darn annoying...
And here's a picture from a really long time ago (Halloween):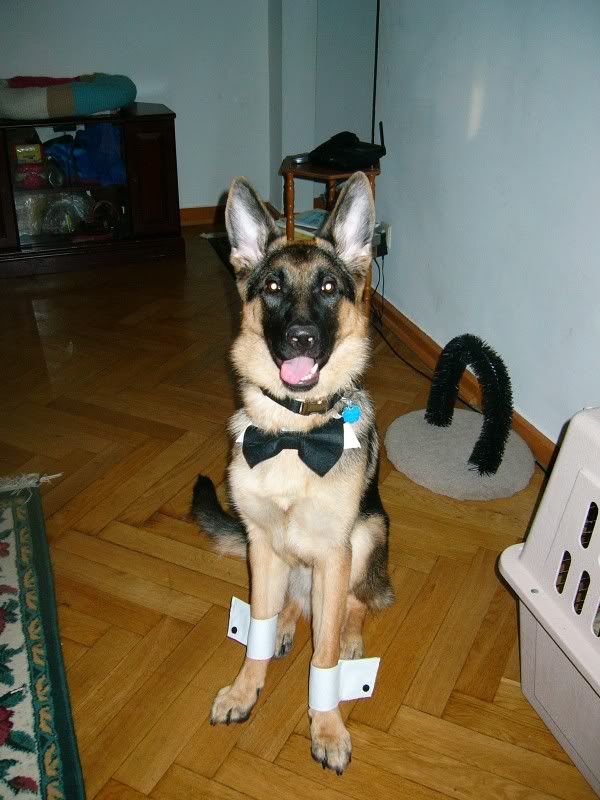 ANd another from Xmas to show you all what an abused GSD I have (the antlers are serious traidition in this house...every pet must wear them at least once during the holiday season); this picture also proves that my dog has at least one talent: the ability to pick his nose without lifting a paw: