Discussion Starter
·
#1
·
I'd put this in the herding section, but it's got photos in it so
Cali and I went to an AKC herding trial this weekend. She was entered in HIA-s and HSA-c both days. Passed her HIA-s with 1st place both days, and the HSA-c with a 3rd on one day. The second day she put in a MUCH better run on cattle IMO, but for whatever reason she didn't Q. Supposedly I ran into a "breed bias", according to the other competitors. I haven't been doing this long enough to know LOL. Oh well, it was only her 3rd and 4th time ever working cattle (my instructor doesn't have cattle), I entered her looking at it more as just a training experience than anything else. Q's were an "extra"
The cool part about this trial was how many breeds were out there competing. There were the normal BC's of course, and since it was an ACD sponsored event there were quite a few ACD. But there were also Beauceron, Malinois, Tervuren, Aussie, GSD, Standard Schnauzer, Bouvier, Briard, Mini Aussie, Rough Collie, Rottweiler, and a Dobe. There were also sheep, cattle and ducks, so a little bit of everything going on.
I tried to get photos of some of the less common breeds, didn't get everyone though. There was lots of proper herding going on also, but proper herding makes for boring photos
The good photos are when things aren't going quite so smoothly.
These are just a few from the weekend, there are more online at
http://s109.photobucket.com/albums/n75/malndobe/Herding_Trial_4_07/
Standard Schnauzer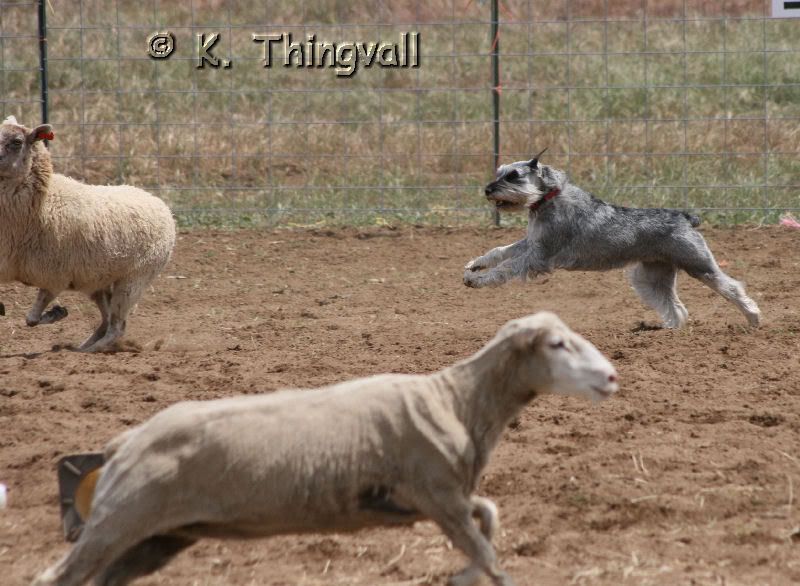 Briard
Cattle Dog
GSD