Discussion Starter
·
#1
·
Some of you guys may know a member of this forum named Bailey Moffat, well yesterday her and her hubby Ben came down with her 3 Siberian Huskies and we took my 2 Siberian Huskies and my rig out to the trail I use for training and attempted hooking up all 5 dogs! Wow what a blast we had! We let the dogs play in the yard for a bit first since it was only the second time for the dogs to meet.
On the trail the dogs surprised all of us by acting like pros...for the most part. They on-byed past many distractions including joggers, offleash dogs, bikers, horses, golfers and startled ducks, but near the end of the run a creek at the bottom of a small hill beside the trail was just too enticing for Tiku (the bitch we had in lead with Ronan) so she veered the team off the trail. Luckily Ben was quick and strong enough to stop the rig before it went tumbling down the hill after the dogs! Me and Bailey were along on bikes so the 3 of us were able to rectify the situation with ease and the rest of the run went without a hitch. We hope to run the dogs again before it gets too warm! Anyways enough chatting, on to the pictures!
Here are two videos that show Ronan trying to flirt with Tiku (being as she's the only female) and Tiku making it clear that she's top dog of the bunch and keeping everyone in line.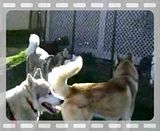 Now on to the pictures....
L to R: Kena, Tiku, Ronan and OC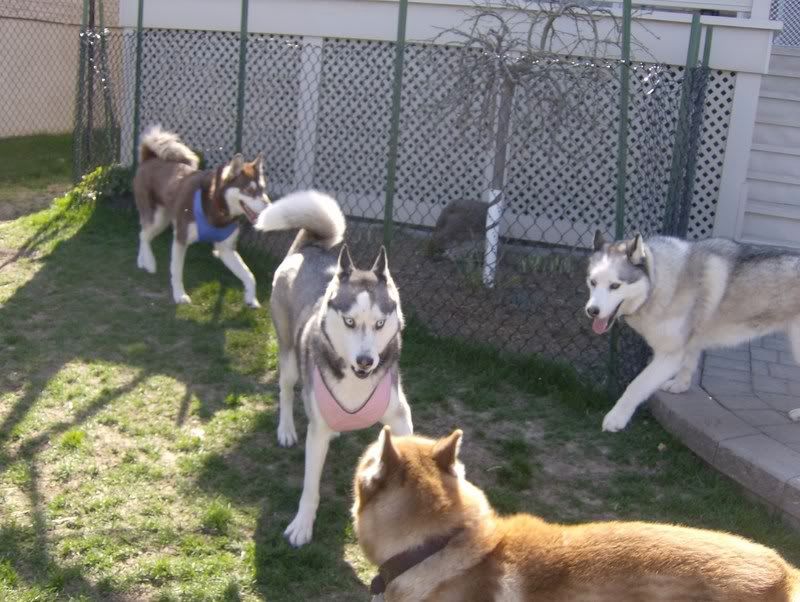 *more*